The FPAA is excited to announce our Virtual Spring Policy Summit coming up in April 2021! You heard the rumblings during Tomato Week 2021, and we are excited to share the details of this three-day event with you now. Spring Policy Summit 2021 (#SPS21) is focused on some of the most important topics for the fresh produce industry. Our agenda this year will include presentations on tackling trade barriers, sustainability, fair trade, and international relations.
What's Cooking – April 21st, 2021 (12:00pm MST)
Current Government Policies for Mexico and the U.S. and Their Relationship
Guest speakers for this day include Kenneth Smith, former lead NAFTA negotiator for Mexico and current partner with AGON, and Britton Mullen, president of the Border Trade Alliance and principle with Clarke Consulting. Both presenters have an extensive background in policy and will provide an insight on the current relationship between the U.S. and Mexico and the changing landscape and shifting policies in U.S. and Mexican Governments.
Register Now: Webinar Registration – Zoom
From Farm to Fork – April 22nd, 2021 (12:00pm MST)
Fair Trade & Sustainability Trends in Transportation
Covering the latest information on fair trade and innovative sustainability trends, day two of the summit will feature notable guests including Ricardo Crisantes from Wholesum Harvest and current FairTrade USA Chairman, and Jim Mullen, Chief Administrative and Legal Officer at TuSimple, a leading technology developer of autonomous trucks, and former Deputy Chief for the Federal Motor Carrier Safety Administration.
Register Now: Webinar Registration – Zoom
The Food Journey – April 23rd, 2021 (12:00pm MST)
Trade Barriers; Trade Cases/Actions Reviewal
The University of Arizona will review recent trades cases and technical barriers to trade impacting fresh produce. This session will provide attendees with potential paths forward to identify and resolve potential technical barriers to trade that impact the fresh produce industry, including tomato inspections.
Register Now: Webinar Registration – Zoom
SPS21 Member Exclusive Events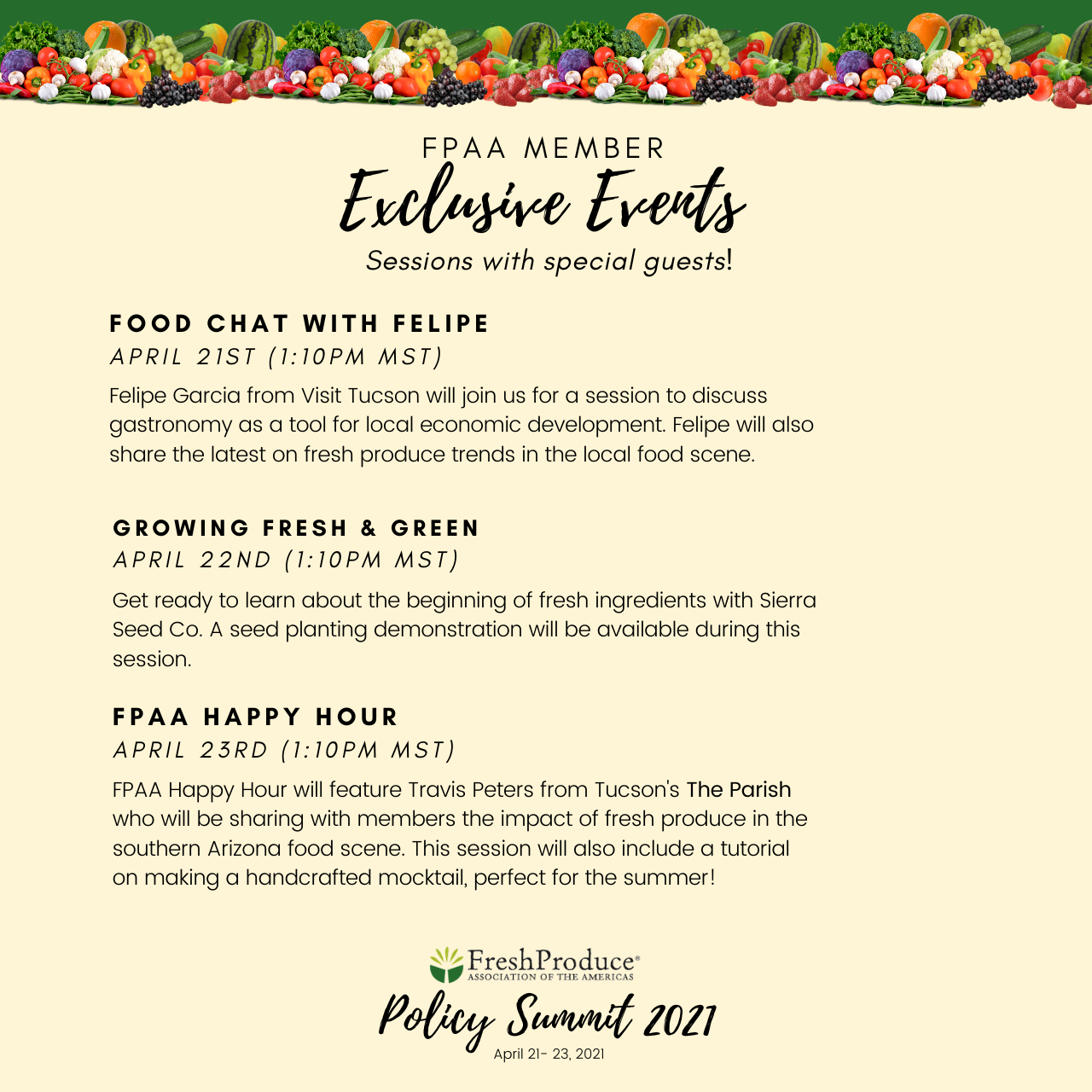 Food Chat with Felipe – 1:10pm MST (April 21st)
Member Exclusive Event Registration:
https://us02web.zoom.us/webinar/register/WN_5wGe5meLQgaP8NpGV3v9rQ
Growing Fresh & Green 1:10pm MST (April 22nd)
Member Exclusive Event Registration:
https://us02web.zoom.us/webinar/register/WN_h2pbIxEdS5iZgZhT1pEsPQ
FPAA Happy Hour Featuring Special Guest- 1:10pm MST (April 23rd)
Member Exclusive Event Registration:
https://us02web.zoom.us/webinar/register/WN_-JAGkG4hQq6e7Urx1FSk-Q