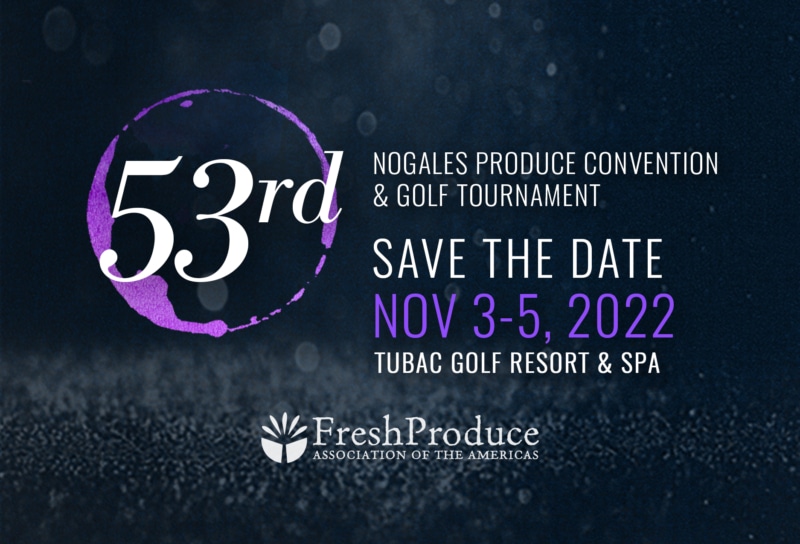 53rd Nogales Produce Convention & Golf Tournament
November 3, 2022 @ 8:00 am

-

November 5, 2022 @ 5:00 pm

UTC+0
We are very excited to come together to celebrate the FPAA's 53rd Nogales Produce Convention & Golf Tournament!!! This Nov. 3-5, 2022 at the Tubac Golf Resort and Spa!!!
We are offering waived event fees for retailers and wholesalers!!!
The convention committee has planned a number of events which will give you the opportunity to meet and network with those involved in the produce industry.  Over the last several years we've had well over 800 attendees, including: buyers, growers, distributors, and allied industry partners.
Based on your feedback, FPAA is pleased to offer a 2 man scramble golf tournament format!  We are maintaining our traditional two-day overall tournament format. This year again, golfers who are unable to participate both days now have the option of participating in one-day tournaments (Friday or Saturday).  For golfers who maintain the same team (no exceptions), they will be automatically entered into the two day tournament. Meanwhile, all two-person teams will also be competing head-to-head Friday & Saturday at the Tubac Golf Resort.  We will have separate 1st, 2nd and 3rd place winners on Friday & Saturday, and we will have overall awards for 1st & 2nd place for teams that participate on both days. Hole-in-one, closest to the pin, and longest drive prizes will continue as in the past!!!
We hope to see you there!!!
Register Now:
https://www.eventbrite.com/e/celebrate-fpaas-53rd-nogales-produce-convention-tickets-305775411487
Schedule of Events:
*Schedule Subject to Change
Thursday, Nov. 3, 2022
10:00 am –  4:00 pm: Registration
Networking Lunch
Educational Sessions
6:00 pm  – 11:30 pm: Opening Fiesta & Networking Event
Friday, Nov. 4, 2022
8:00 am – 9:00 am: Golf Registration (1st Round) @ Tubac Golf Resort
9:30 am: Shotgun Start
11:00 – 3:00 pm: Culinary Showcase
6:00 pm – 11:00 pm: Gala Event & "Pillars of the FPAA" Award
Saturday, Nov. 5, 2022
8:30 am – 9:00 am: Golf Registration (2nd Round) @ Tubac Golf Resort
9:30 am: Shotgun Start
2:00 pm – 4:00 pm: Lunch & Award Presentation for Golf Tournament
*Special Hotel Rates
@
The Tubac Golf Resort & Spa, 520-398-2211
&
The Holiday Inn Express, 520-281- 0123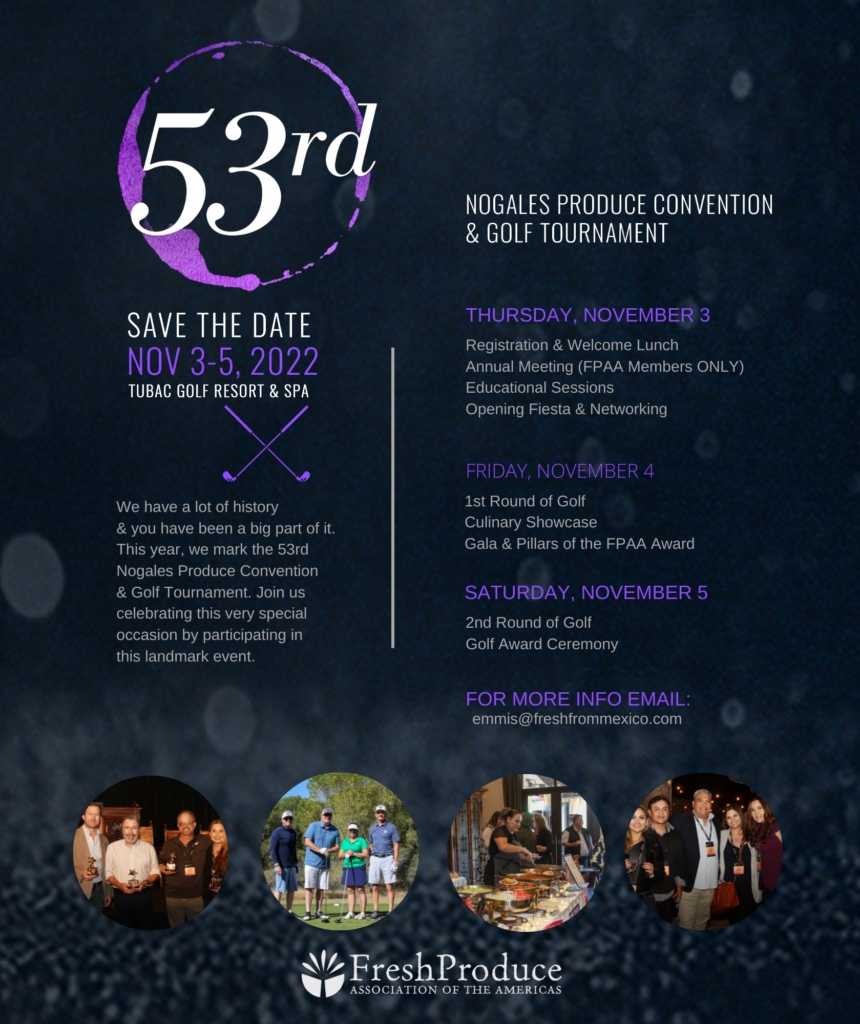 Interested in becoming a sponsor?
Contact Emmis Yubeta at emmis@freshfrommexico.com
Share this