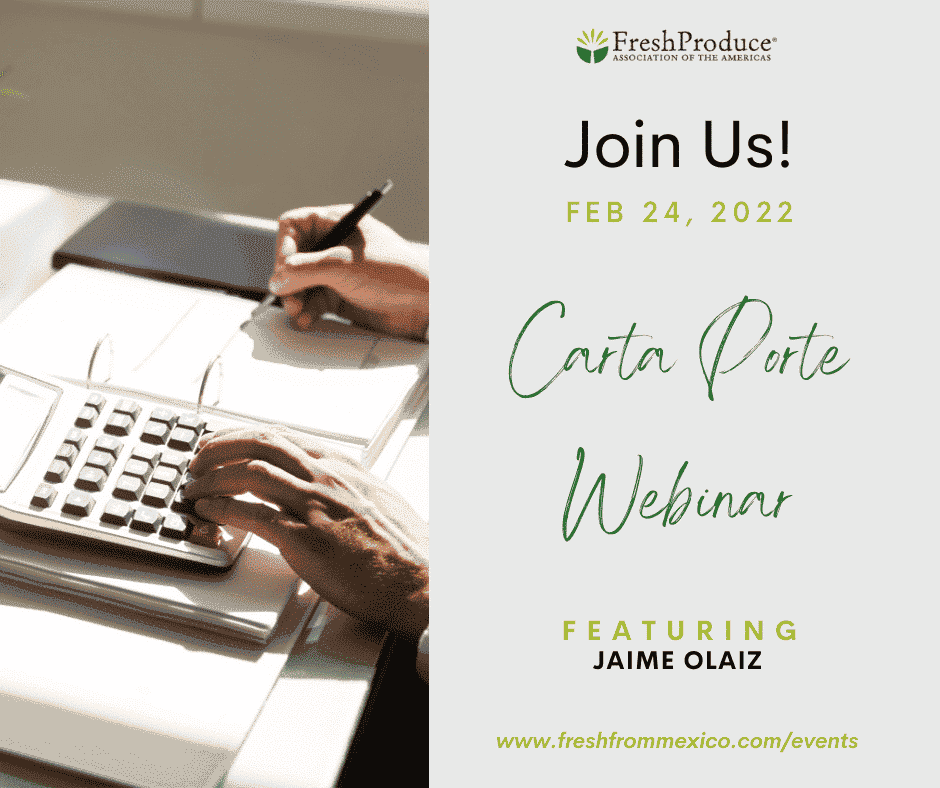 Mexico New Invoices and Obligations (Carta Porte Webinar)
February 24 @ 12:00 pm

-

1:00 pm

UTC+0
The FPAA's Carta Porte Webinar will provide attendees with a general overview of the new documentation process for items (including fresh produce) crossing the border into the U.S. from Mexico. The webinar will also highlight how this requirement will impact businesses that import items from Mexico.
Don't miss the opportunity to learn from industry expert, Jaime Olaiz, to ensure you are being compliant with all the requirements established by SAT (the Mexican Tax Administration Service.)
When: Feb. 24, 2022
Time: 12:00 – 1:00pm (Arizona Time)
Register Now
FROM THE U.S. INTERNATIONAL TRADE ADMINISTRATION:
On May 1, 2021, the Tax Administration Service (SAT by its Spanish acronym), published on its website the electronic document called" Bill of Lading Complement" (Complemento carta porte). 
This is an important change for U.S. companies exporting via door-to-door services because, Mexican owners of goods, transportation companies & freight forwarders are subject to comply with this new requirement. 
This requirement will be applied to all importation and exportation of goods in transit within Mexican territory. The parties involved must comply in advance with this new requirement. 
The Mexican government is looking to have information in advance of all goods in transit by any means of transport (air, sea, train road, and others) throughout the Mexican territory. The main purpose is to combat contraband and impose taxes from the informal economy through transportation services. 
In this new document (Complemento Carta Porte) The Mexican government will request information including, but not limited to: 
Goods that will be moved throughout the Mexican territory. 

Shipper/receiver information. 

Specific information about the shipper and receiver locations. 

Information about the means of transportation. 

Information about the driver in case of road transportation. 
Share this